THE IBG GROUP comprises over 2500 employees worldwide, 75 subsidiaries and affiliated companies in 38 countries and has a company history that goes back 100 years.
A company policy that, due to its continuity, ensures a relationship of trust with customers, partners and employees, and makes an important contribution to the achievement of being a leading actor in the business fields of welding technology, tungsten components and construction chemicals.
IBG is and remains a wholly-owned family business. The backing from our company partners gives us the security to continue on our successful path in the future.
Global player and independent family business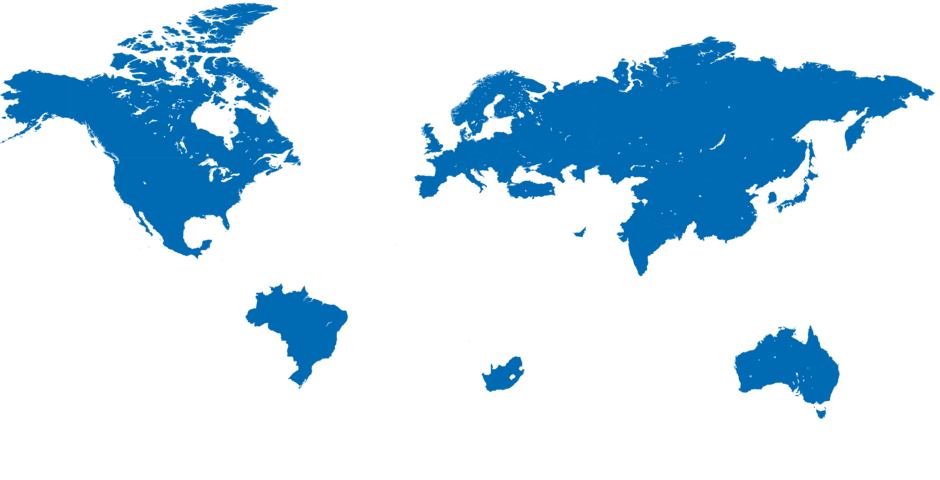 One idea
38 countries. 75 companies
Our worldwide company network with our own production and sales companies, as well as logistic centers, creates the necessary proximity to customers for ensuring complete market coverage. To find out in detail where the IBG Group is internationally active, look at the pages of our individual companies involved in the three business sectors Welding Technology, Tungsten Components and Construction Chemicals.
The WELDSTONE COMPONENTS Group is one of the leading manufacturers of tungsten and tungsten-based products, tungsten heavy metal, tungsten-copper and tungsten special alloys in the world. Well-known brands of the group are ANVILOY® and TUCOMET®.
In addition to semi-finished products and blanks on the basis of tungsten and tungsten alloys, the WELDSTONE COMPONENTS Group supplies most products as ready-to-install end products. The customers therefore benefit from the machining processes matched to these materials and receive high-precision products with full guarantee. As the WELDSTONE COMPONENTS Group covers the complete production process from powder production to CNC processing, highly individual materials can be produced and combined, which enables a wide provision of tailor-made customer solutions.
Dates and facts
Founding
1998/2008 Specialisation on tungsten products
Products
Blanks, semi-finished products, end products on the basis of tungsten, tungsten alloys and tungsten composite materials
Companies
Sales and service locations in Germany, US, Mexico and China
Production locations
Germany, China

Areas of application
Industries: Foundry technology, automotive industry, aerospace, precision metrology, welding technology, electrical engineering, electronics industry, mechanical engineering, radiation protection, coating technology
Products: Mould components, weights, screens, tool holders, welding electrodes, electrical contacts, heat sinks, customer-specific products
Individual materials – individual customer solutions
Creative ideas are transformed from individually designed materials into unique products
Process "Art to Part"
Typical properties of ANVILOY® solutions

Extremely high densities
Very good chemical, mechanical and thermal stability
High thermal conductivity
High stiffness
KEMPER SYSTEM is one of the leading manufacturers in the world market for high-quality sealing and coating systems based on liquid plastics as well as an internationally successful provider of welding chemicals. Innovation and constant quality improvement of the products but also of the individual company areas are the driving force of the success. The group's own research and development department plays a central role in this.
Dates and facts
Founding
1957/share acquisition by the IBG Group 1986
Products
Liquid plastics, welding chemical products
Worldwide
Subsidiaries in Germany, US, India, Canada, England, France and Italy
Production locations
Germany, US, Italy, India
Areas of application
Roofs, balconies/terraces, parking decks/bridges, interior spaces, skylights, green roofs, wind/water/solar, special constructions, protection of historical monuments
Sealing, coating, detail sealing
Solvent-free and odourless sealing systems for sensitive applications
Quick-hardening systems
Fall-through/hail protection
60 years of experience and highest quality
Long-term safety
Certified/approved in compliance with European and national standards
Externally monitored
Health/occupational/environmental protection
Pyrum Innovations AG is an innovative recycling and plant construction company based in Germany, France and Luxembourg. The worldwide patented Pyrum recycling process is unique and can not be compared to any existing recycling process. The Pyrum Innovations Group is primarily engaged in the development, construction and operation of proprietary recycling technologies in the waste tyre, plastic waste, CFRP, minerals, bitumen and other complex waste industries. For the first time, the company succeeded in reducing waste tyres to their valuable raw materials oil, coke and gas using controlled thermolysis. While oil and coke are sold, the recovered gas is used to operate its own combined heat and power plant. A real system of circulation, in which raw materials are circulated, recovered and returned to the economic cycle. The recycling process presented here is marketed worldwide and delivered turnkey.
Dates and facts
Founding
2007
Products
Laboratory equipment, semi-industrial plants, industrial plants
Companies
Germany, France und Luxembourg
Pilot plant (Thermolysis)
Germany
Areas of application
Thermolysis (thermal decomposition of organic substances (respectively free-flowing rubber and plastic waste) under exclusion of oxygen)
Recovery of raw materials, substitution of fossil fuels
Combining economic and ecological requirements with a waste concept with low investment and operating costs
Benefits of Pyrum thermolysis technology
100 % autonomous energy supply
95 % CO2 savings
Flexible modular design
Waste becomes commodities again
Production costs of oil: 0.20 € / l